Pallet marking
Marking on pallets is applied by the manufacturer of the pallet in accordance with the permits and licenses of the national organization that regulates the production and turnover of pallets. Marking on the pallet may be absent altogether. This suggests that its manufacturer does not guarantee compliance with any standard. This can be either a complete analogue of the standard pallet, or an absolutely low-quality product. The stamp says about the responsibility and guarantees of the manufacturer of the pallet. This in turn increases the cost of the pallet.

The company that deals with the processing of pallets receives its unique number that is placed on the phytosanitary stamp. This is necessary to identify the organization that carried out the phytosanitary processing of the pallet. Also on custom pallets often put the logo of the operating company.

On the pallet there may be information about the national transport company for which the pallet was manufactured, for example, the common stamp DB - "Deutsche Bann" - German Railways.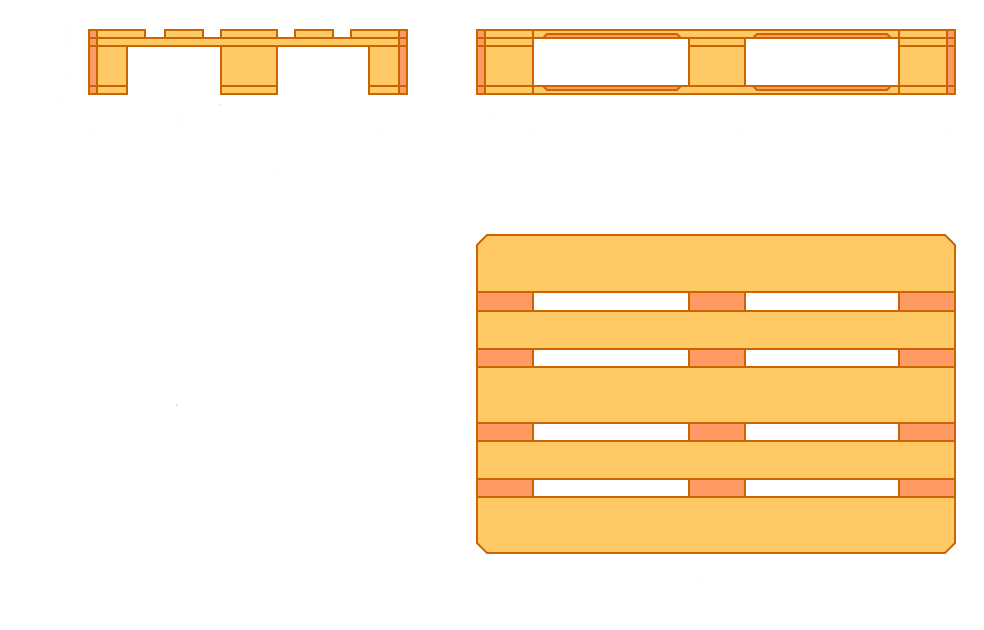 Левый торцевой
- Логотип производителя

- Дата изготовления

- Контактная информация

Правый торцевой
- Логотип производителя

- Учетный номер

- Максимальный вес груза

Левый боковой
- Европейская паллетная ассоциация

- Финпаллет
(Для поддонов 1000х1200х145 мм)

- UIC Международный союз железных дорог

- CD
- Принадлежность к национальной транстортной компании (DB, HZ, CFL и пр.)
Центральный боковой
- Фитосанитарное клеймо

- Логотип производителя



- Контактная информация

- Цифровой код производителя
Правый боковой
- Знак EUR
(Для поддонов 800х1200х145 мм)

Грузовая плоскость
- Максимально допустимый вес

- Логотип производителя

- Рекомендации, инструкции